<![endif]-->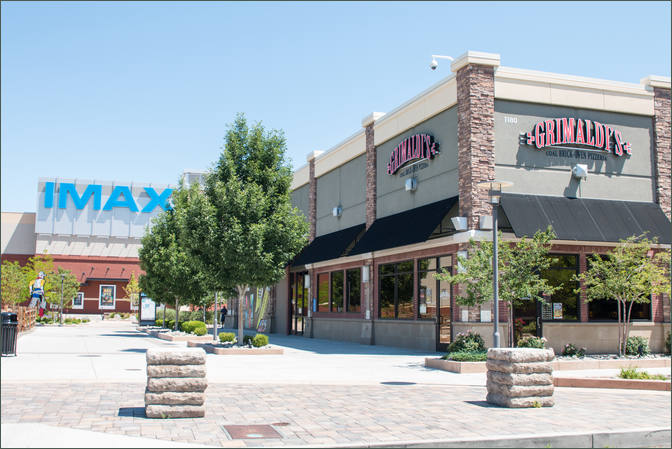 The Outlets at Legends
1310 Scheels Drive


Sparks

, NV

89432

Reno-Sparks' population of 439,764 is expected to grow nearly 5% in the next five years to 460,584. More than 30% of the population has an income of $75,000 or higher.

With high-tech manufacturing and healthcare plus a strong gaming and visitor economy, Reno-Sparks has a daytime office population of nearly 250,000. More than 52,000 office employees work within three miles of The Outlet at Sparks.

Reno-Sparks is home to The University of Nevada, Reno, a comprehensive research university that currently serves more than 18,000 students. Combined with multiple research institutes, plus Truckee Meadows Community College and three career colleges, more than 40,000 avid young consumers are in the market.

Tourism is big business for Reno-Sparks: Visitors generate more than $4 billion annually for the local economy. Approximately 4.7 million tourists visited the Reno-Sparks area in 2013. Nearly 50% of visitors to Reno-Sparks reported shopping as one of their activities. Those who came to the area for the primary purpose of shopping spent $116 per person, per day.

The Reno-Tahoe International Airport boasts more than 98 daily flights, and transports nearly 4 million passengers per year on seven major airlines.

Livability.com named Reno one of "The Top 10 Best Cities to Live in" for 2014.
Highlights
County: Washoe
Total SF: 1,200,000
Metro Area: Las Vegas

Leasing Agent
Sharon Wilkins
Leasing Agent 1 East Washington St, Ste 300
Phoenix, AZ 85004
p. 425-222-4157

The Outlets at Legends
| | |
| --- | --- |
| Available | Coming Available |
Available Spaces
| | | | | |
| --- | --- | --- | --- | --- |
| 14 | | | B-107 | 2,082 SF |
| C-166 | 1,763 SF | | C-170 | 6,087 SF |
| D-146 | 1,499 SF | | F-102 | 4,452 SF |
| F-126 | 4,710 SF | | F-168 | 3,050 SF |
| F-170 | 1,314 SF | | Future Retail G | 24,500 SF |
| J-105 | | | M-141 | 6,846 SF |
| M-181 | 1,673 SF | | M-191 | 3,752 SF |
| Pad | | | Pad 3 | |
| Pad3 | | | Pad 11 | |
| Pad 16 | | | Pad 17 | |
| Pad G-3 | | | Retail | |
| U-111 | | | U-121 | |
A
Scheels
240,000 SF
B-101
Rocket Fizz
1,854 SF
B-103
Key and Code II
2,522 SF
B-108
Burgerim
1,756 SF
B-109
Omega Frog Comics
1,442 SF
B-111
Cantina Los Tres Hombres
4,633 SF
B-113
ImBib Brewery
1,134 SF
B-115
Mellow Fellow
3,863 SF
B-117
Grimaldi's Pizzeria
3,961 SF
C-102
Banana Republic
8,505 SF
C-108
Uniform Destination
2,992 SF
C-114
Converse
3,017 SF
C-126
Famous Footwear
4,803 SF
C-132
Bath & Body Works
3,423 SF
C-138
Zale Outlet
1,600 SF
C-142
Loft Outlet
6,543 SF
C-148
TrusightVR
1,992 SF
C-154
Lids
1,095 SF
C-160
Freshberry
706 SF
C-172
*1310 Scheel's Drive Office
Casino
Legends Bay Casino
54,000 SF
D-100
Sportif Outlet
3,568 SF
D-102
Motherhood Maternity
2,273 SF
D-106
Volcom
2,735 SF
D-108
Carter's
4,487 SF
D-114
Oshkosh BGosh
4,570 SF
D-120
Levi's
3,951 SF
D-126
Gymboree
2,532 SF
D-132
Vans Shoes
4,079 SF
D-134
Style Brow
527 SF
D-138
Skechers
3,040 SF
D-144
Express Factory Outlet
6,040 SF
D-150
Maurices
4,405 SF
D-162
Gap
11,395 SF
E-102
Off Broadway Shoes
23,105 SF
E-106
Bling in Fool & Home Decor
5,331 SF
E-114
Lane Bryant
5,181 SF
E-120
Forever 21
23,170 SF
E-126
Adidas
8,100 SF
F-108
rue21
4,710 SF
F-114
Guess? Factory
6,342 SF
F-120
CA Neva Handmade
3,000 SF
F-138
Buckle
5,659 SF
F-144
H & M
25,638 SF
F-150
Oakley Vault
2,495 SF
F-153
Fragrance Outlet
1,200 SF
F-156
Torrid
2,591 SF
F-158
Storage
2,730 SF
F-162
Nike
12,064 SF
F-174
Santa Cruz Sushi
1,496 SF
F-268
Defy
26,190 SF
G
Galaxy Theatre
61,998 SF
I
Sparks GRF2
45,019 SF
J-101
Old Navy
K
Lowe's
124,076 SF
M-101
Burlington
40,000 SF
M-151
Modern Acupuncture
1,325 SF
M-161
Legends Nail Spa
1,443 SF
M-171
Burrito Bandito
2,391 SF
O
Target (N.A.P)
OP 12
Olive Garden
7,441 SF
Pad 5
Popeyes Chicken
2,664 SF
Pad 6
Taco Bell
2,556 SF
Pad 7
Discount Tire
6,947 SF
Pad C
Chick Fil A
4,529 SF
Pad E
Chase Bank
Pad F1
Habit Burger
3,000 SF
Pad F5
Jersey Mike's
1,500 SF
Pad F7
Blaze Pizza
2,447 SF
Pad G1
AAA
4,000 SF
R-101
Fuddruckers
5,852 SF
R-103
Sprint
1,000 SF
R-105
Sport Clips
1,072 SF
R-107
GNC
1,028 SF
R-111
Lucky Nails
1,500 SF
R-113
GameStop
1,600 SF
R-115
Sparks GRF2
16,078 SF
S-100
Buffalo Wild Wings
S-103
The Joint
S-105
Chipotle
TB-109
Omega Frog Comics
1,442 SF
TE-108
The Escape Room
2,115 SF
The Outlets at Legends