<![endif]-->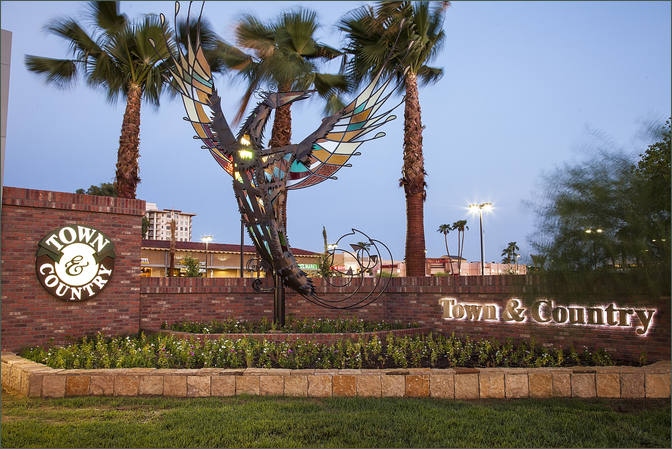 Town & Country
2073 E Camelback Road


Phoenix

, AZ

85016




The Camelback Corridor is home to prominent businesses, popular high-end retailers and restaurants sought-after residential neighborhoods and renowned resorts.

One of the strongest submarkets in the valley, nearly 9 million square feet of office space is located in the corridor, with more than half of the buildings designated as Class "A".

The property is centrally located in the valley; within 10 minutes of Phoenix Sky Harbor International Airport, Downtown Phoenix, Old Town Scottsdale, Interstate 17 and the Phoenix Mountain Preserve.

The Camelback Corridor is a hub of shopping, dining and entertainment in the Phoenix metropolitan area; an urban destination with an extensive collection of retailers and restaurants that draw from all corners of the valley.

The Camelback Corridor is also a focal point of tourism where several of the area's most prestigious resorts are located including Arizona Biltmore, The Phoenician, Royal Palms Resort and Spa, International Montelucia Resort & Spa, Sanctuary Camelback Mountain Resort & Spa and The Ritz Carlton.

Town & Country's demographics speak for themselves. The population within 5 miles of the center os over 337,000, far outpacing competing retail intersections including Scottsdale and Camelback, Scottsdale and Greenway, Tatum and Cactus and loop 101 and Chandler.
Demographics
| | 1 mi. | 3 mi. | 5 mi. |
| --- | --- | --- | --- |
| Population | 19,449 | 151,266 | 374,347 |
| Daytime Population | 31,241 | 191,490 | 461,401 |
| Households | 9,886 | 68,383 | 153,082 |
| Avg HH Income ($) | 79,757 | 86,990 | 82,893 |
| Med HH Income ($) | 57,209 | 57,484 | 52,354 |
Highlights
County: Maricopa
Total SF: 387,771
Metro Area: Phoenix

Leasing Agent
Mike Kallner
Leasing Agent 1 E Washington Street, Suite 300
Phoenix, Arizona 85004
p. 480-348-3856

Town & Country
| | |
| --- | --- |
| Available | Coming Available |
| | | |
| --- | --- | --- |
| 100 | Dunkin' Donuts | 1,640 SF |
| 101 | Primp and Blow | 1,200 SF |
| 102 | Bright Now! Dental | 3,000 SF |
| 103 | Cafe Rio | 3,200 SF |
| 105 | Potbelly | 2,100 SF |
| 107 | FedEx Office | 4,000 SF |
| 109 | Luxe Nail Bar | 2,300 SF |
| 111 | Tokyo Joe's | 2,500 SF |
| 2073 | Nordstrom Rack | 35,066 SF |
| A13 | Hopdoddy Burger Bar | 4,040 SF |
| A14 | Paper Source | 2,600 SF |
| A15 | Supercuts | 1,200 SF |
| A16 | Nekter Juice Bar | 1,407 SF |
| A17 | Snooze Eatery | 4,000 SF |
| A18A | Banana Republic | 5,500 SF |
| A18D | The Biltmore Studio | 2,400 SF |
| A19 | Distinctive Salon & Spa | 1,253 SF |
| A21 | The Macintosh | 3,800 SF |
| A23 | Pizzeria Bianco | 4,401 SF |
| A25 | Mattress Firm | 5,494 SF |
| A27 | Whole Foods | 37,300 SF |
| A30 | Choice Pet Market | 2,450 SF |
| A31 | Trader Joe's | 12,017 SF |
| A32 | Sprint | 2,320 SF |
| B16 | Courtyard by Marriott | 82,417 SF |
| B18 | LA Fitness | 47,500 SF |
| B21 | SCP Chiropractic | 1,370 SF |
| B22 | Management Office | 1,094 SF |
| B23 | Loose Leaf Market | 962 SF |
| B25 | Well Suited | 2,625 SF |
| B29 | My Sister's Closet | 3,748 SF |
| C10 | Orvis | 5,000 SF |
| C12 | Forever 21 | 9,976 SF |
| C14 | The Container Store | 24,134 SF |
| D10 | Athleta | 3,322 SF |
| D12 | Bluemercury | 2,200 SF |
| P1 | FirstBank | 5,000 SF |
Town & Country